Support for Caregivers
Caring for an aging or disabled loved one requires resources and creates challenges many families are unable to handle on their own. Not knowing what to do or how to seek assistance can be frustrating. Understanding those concerns and offering solutions is what the staff at Irvine Adult Day Health Services does best.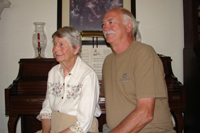 "Now we're able to keep mom home at night and turn her over for care to the staff at IADHS during the day. She smiles and laughs a lot now." -Tom Carr
Through our programs, caregivers can receive relief from the emotional and physical fatigue they often experience. Irvine Adult Day Health Services' staff works closely with families, from the evaluation process to completing the necessary medical forms, to providing support when making seemingly overwhelming difficult decisions.
The Center's Social Worker also furnishes caregivers with the necessary tools and encouragement to successfully deal with the challenges they face each day. We provide a safe, friendly and cost-effective alternative to placing loved ones in long-term care facilities.
Irvine Adult Day Health Services offers ongoing support by facilitating caregiver support groups that are free and open to the public. Please call our Social Worker, Jill Upton at (949) 262-1123 or email at jupton@irvineadhs.org to
learn more.
We also have a thorough knowledge of other community resources and can provide assistance when needed.
"My wife used to fight with me every time we left for the Center. Now, she can't wait to get there." -Caregiver