Social Day Services
The social day program is offered to adults (also called participants) who may be experiencing mild memory loss and decreased socialization. Structured recreational and social activities are facilitated in a safe and secure environment.
"I was home alone while my family worked all day.  I am
so happy at the Center because the activities keep my mind active," Participant
The social day program focuses on the following:
Recreation and Therapeutic Activities Program
At the heart of our program is the Center's Recreation and Therapeutic Activities Program. We present "fun" social and therapeutic activities that challenge a participant in a variety of ways to promote socialization, cognitive stimulation, independence, and encourage new friendships.
Participants can enjoy a wide offering of group activities to choose from during the day, including:
Reminiscence and trivia groups
Bingo, board games, brainteasers and other group game activities
Nintendo Wii Sports and Wii Brain Academy games
Sensory stimulation (touch, taste, smell, auditory, visual)
Pet therapy, cooking classes and outdoor gardening groups
Language specific discussions and activity groups
Sing-a-longs, music history and appreciation
Live entertainment
Daily aerobic chair exercise and chair yoga
Various special and multi-cultural events
memories in the making® art therapy program designed especially for person's with Alzheimer's disease or other dementias
BrainFitness® by Dakim, a touch screen computerized system designed to challenge seniors minds with various memory and critical thinking exercises. Two BrainFitness® systems were generously contributed by Hoag Memorial Hospital Presbyterian. An additional system was donated by an Anonymous IADHS Family. Thank you to both!
Social Services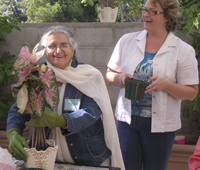 "I come to the Center to
forget my pain and be with people," Participant
Many difficult emotions and family dynamics are involved when exploring short and long-term care options for an older loved one with special needs. The Center's Social Worker is specially trained to provide the necessary guidance and support to help meet the individual needs of seniors and their caregivers.
Our experienced Social Workers assist families by providing:
Community information and referrals
Case management
Short and long term healthcare planning
Psychological assessments
Caregiver support groups and counseling
Participant support groups and counseling
Community awareness and outreach
Well-balanced Meals
The Center provides a well-balanced breakfast, lunch and snack daily. Menus are designed by a Registered Dietitian and are prepared fresh daily on site.
Fee Structure
The Center charges a daily fee for service for both the social day program and the health care program. Prices vary according to each program. The social day program fee structure includes private pay and long term care insurance as available. Scholarship Assistance may be available following an application and review process.
For more information about the Center's fee structure, our services or to schedule a tour of the facility, please call our Social Worker, Jill Upton at (949) 262-1123 or by email at jupton@irvineadhs.org.