Health Care Day Services
The health care program provides health monitoring and protective supervision, personal care assistance and specialized therapeutic services to help seniors manage and overcome the effects of a Stroke, Parkinson's disease, Arthritis, Diabetes, Alzheimer's disease and other chronic health conditions that impact their activities of daily living and independence.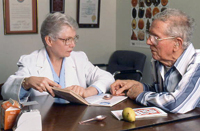 "I was sick and now I
am happy to forget my sickness," Participant
Structured health care programs are designed to wrap around the recreational components of the social day program and are offered in a safe and secure environment by experienced healthcare professionals. The health care program includes the social day program services in addition to the following:
Health Monitoring and Supervision
Individual plans of care are developed through a partnership between the participants' primary care physician, Center Registered Nurses and the family to ensure the overall health and well being of the participant. Specific medical supervision and daily care needs are identified for each participant. Our nurses keep caregivers and physicians informed of any changes in the condition of the participant and are always available to discuss care needs.
Medical supervision and care services include:
Medication management and administration
Blood pressure management
Daily monitoring and assistance with personal care needs
Daily supervision of the nutrition program
Monitor special diets and mealtime assistance
Diabetes management, blood glucose monitoring and insulin administration
Medical record updates and assessments
Health education groups
Secure environment for wandering participants
"I come here to make myself a stronger person. I'm enjoying myself here and it is a relief for my wife too," Participant
Rehabilitation Program: Physical, Occupational
and Speech Therapy
The Center's rehabilitation program is specifically designed to improve the health, mobility, cognition and independence of our special needs seniors. Rehabilitation programs are individually designed based on medical diagnosis and work to improve core strength, balance and endurance to reduce the risk of falls; assist with activities of daily living; and improve communication and cognition.
The expertise, training and compassion of our therapists and aides, when combined with the Center's state-of-the-art therapy equipment (gym), provide the necessary tools needed to positively impact our seniors. Rehabilitation programs may include:
Daily sitting and standing exercise classes
Daily use of the Center's state-of-the-art gym equipment: Nustep, treadmill, pullies and universal gym
Gait training and daily walking program
Strength and endurance training
Yoga and abdominal classes
Activities of daily living training (self-toileting, dressing and bathing)
Range of motion classes
Hotpack and coldpack treatments for pain management
Safety awareness training
Auditory comprehension and language expression
Cognitive groups: word retrieval, forming sentences, reading comprehension, problem solving
Improve swallowing skills
Nutrition Services
The Center offers a well-balanced breakfast, lunch and snack daily. Menus are designed by a Registered Dietitian and are prepared fresh daily on site. Diet consultations are also provided by a Registered Dietitian as needed.
Mealtime assistance is available. Vegetarian lunch options are available. For special diet concerns, please contact our Social Worker.
Accessible Door-to-Door Transportation
Accessible door-to-door transportation is available in the health care program. Transportation options may vary, please contact our Social Worker for more information.
Title VI Limited English Proficiency Program
Irvine Adult Day Health Services operates its programs and services without regard to race, color, and national origin in accordance with Title VI of the Civil Rights Act. For more information on IADHS Civil Rights Program, contact our Program Director and Civil Rights Coordinator Hollis Parmely at (949) 262-1123 or hparmely@irvineadhs.org.

Click here to view the Title VI Public Notice
Fee Structure
The Center charges a daily fee for service for both the social day program and the health care program. Prices vary according to each program. The health care program fee structure includes Private Pay, Medi-Cal, and long term care insurance as available.
IADHS is at capacity for the Community Based Adult Services (CBAS) program for Medi-Cal beneficiaries. Please inquire directly with our Social Workers at (949) 262-1123 to learn about the waiting list and enrollment process.
Scholarship Assistance may be available following an application and review process.
For more information about the Center, our Services or to schedule a tour of the facility, please call one of our Social Workers Jill Upton or Michaelann Cassady at (949) 262-1123 or email them at jupton@irvineadhs.org or mcassady@irvineadhs.org.