Our History
For more than twenty years, Irvine Adult Day Health Services has been committed to providing solutions for seniors and disabled adults who need or desire additional health care supervision during the day to maintain and enhance mobility and independence.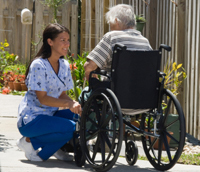 "I have a partner in Irvine Adult Day Health Services. I literally do not know what I would do without them."
-Stan Bailey

The idea to build an adult day health center in Irvine was founded in collaboration between the City of Irvine, the former Irvine Medical Center, Irvine Health Foundation (whom the building is named after), Kaiser Permanente, The Irvine Company and the visionary residents of the community.
Irvine Adult Day Health Services was established as a non-profit charitable organization in 1994 and is licensed by the California Department of Public Health and certified by the California Department of Aging. The Center provides caring, professional adult day services programs and support to families caring for an older loved one with special needs.
Being attached to the Lakeview Senior Center, our licensed adult day health care facility can provide additional care and supervision to those who need it. This dual use facility was a farsighted concept for its time and continues to be unique in Orange County, providing a familiar location for seniors and their families.
Irvine Adult Day Health Services is a private, non-profit 501(c) 3 charitable organization.