News & Events
Events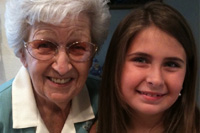 " I can honestly say that IADHS was the BEST decision we made!  My mother absolutely loves the caregivers and the physical therapy she receives."
- Janelle Odishoo
Monthly Open Houses

Come See How We Can Make A Difference
Our experienced professionals understand how difficult it can be for families to ask for help in caring for an older loved one. Drop in to meet our team, and see first hand how our therapeutic programs and activities can enhance a seniors' quality of life and give peace of mind to caregivers.   
When: 1st Thursday of every month
Where: Irvine Adult Day Health Services, 20 Lake Road, Irvine, CA 92604
Time: 9:00 am to 2:00 pm
Caregiver Support Group Meetings

Come Wash Away Your Stress and Spend Time With Friends
Our group is for family and friends that care for someone who is dealing with an illness or experiencing memory loss. The group offers caregivers the opportunity to share their experiences, feelings and concerns in a caring, non-judgmental environment. Receive support and gain useful information that can help you better care for yourself and your loved one.
When: Every 2nd and 4th Wednesday
Where: Irvine Adult Day Health Service, 20 Lake Road, Irvine, CA 92604
Time: 3:30 pm - 5:00 pm
Facilitated by Jill Upton, MA
Networking Mixers and Community Education
To learn more about our networking opportunities, please contact Jill Upton, Lead Social Worker, at jupton@irvineadhs.org.
For more information on our news and events, call (949) 262-1123 or email us at iadhs@irvineadhs.org.