Irvine Adult Day Health Services
Save the Date:
Saturday, October 3, 2020
Take a Chance for Seniors Casino Night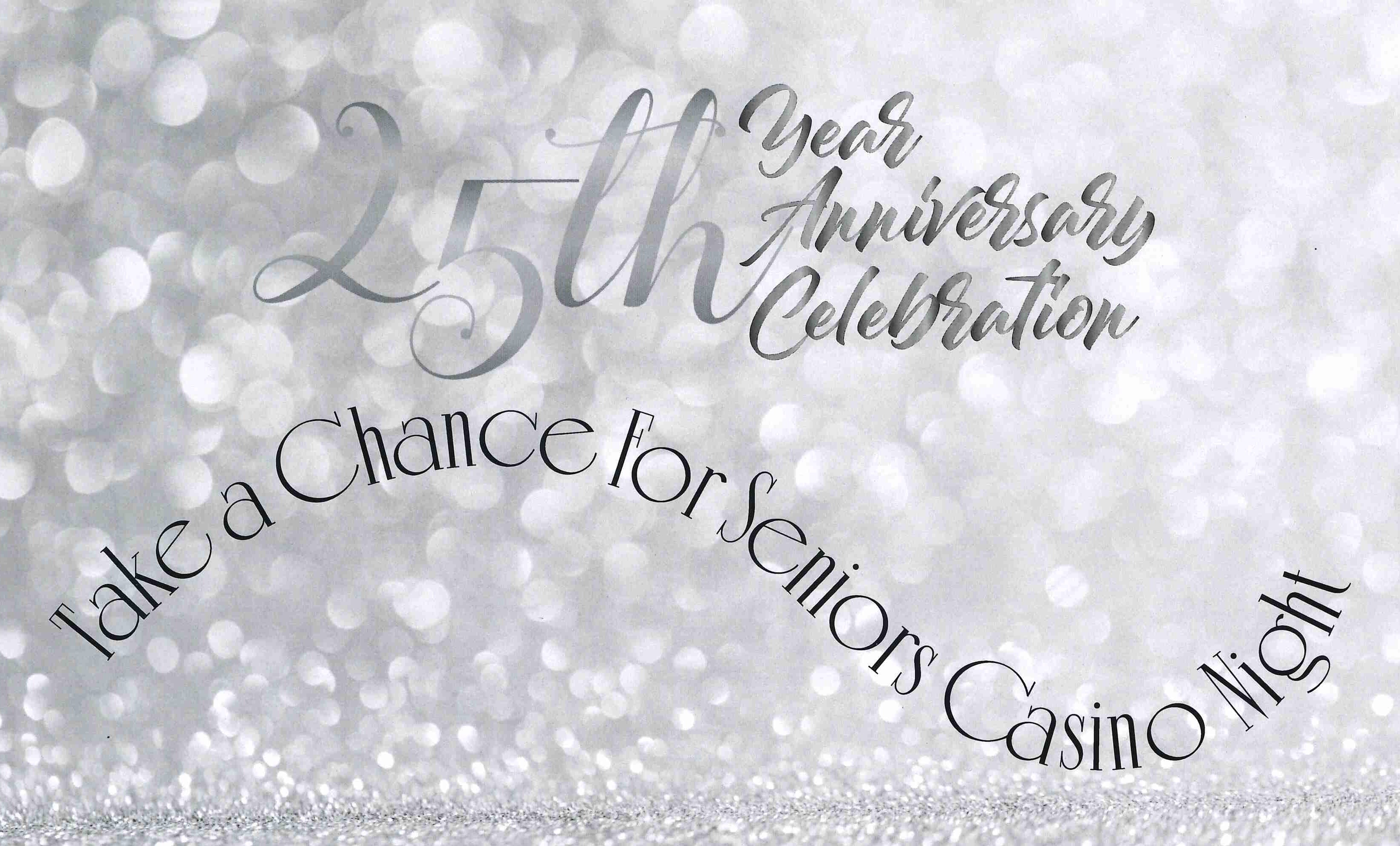 Our 25th Anniversary Take a Chance for Seniors Celebration, held on October 5, 2019, was filled with cherished memories and grateful hearts as we gathered together to pay tribute to our Event Honorees Patty Vidovich and Kevin & Denise Cassin. We thanked the many volunteers, staff, families, and community partners who have personally touched and positively impacted our program these past 25 years.

Passion, Commitment, Dedication, and Innovative… are just a few words that come to mind in thinking of our collaborative efforts to provide 'A Day of Joy, A Sense of Hope' to adults and seniors managing Alzheimer's disease, Parkinson's disease, and other chronic health concerns, and continue to be a trusted partner in care to their family caregivers.

Together, we raised nearly $125,000 which will enable us to provide Person-Centered programs and services that meet the unique care needs, interests, and quality of life goals of adults and seniors who attend Irvine Adult Day Health Services.

25 Years │ 242,720 Days of Care │ 28,038 Volunteer Hours Contributed

There is still time to help us provide
'A Day of Joy…A Sense of Hope'
To our participants and their family caregivers
Click here to donate today


Event Honorees

Kevin & Denise Cassin
Patty Vidovich
2019 Silver Anniversary Sponsors ~ view listing
2019 Silent Auction & Opportunity Drawing Contributors ~ view listing
TWICE THE GRATITUDE ~
Testimonial shared by Karin Lekas
The Lekas Family is so grateful for Irvine Adult Day! For the last year Tony has been a participant at Irvine Adult Day. It has given us an extra year to have our Tony, aka Dad, Papou and husband at home.

Greeted each day with loving smiles and hugs and gentle direction, he is safe with many "cronies" like him. I have seen the love and joy that the caregivers spread! It's amazing and infectious! He comes home happy and full of 2 meals a day and a snack and sleeps so much better after attending the "club"!!

As Tony's wife and caregiver at home, it has given me normalcy 4 days a week! I am eternally grateful for that time away!!

WHY TWICE YOU SAY? 25 years ago my father-in-law Gus, Tony's Dad, was one of the first participant's at Irvine Adult Day. He, too, loved the individual care he was given and my mother-in-law Sophie enjoyed her freedom during the day while Gus was "playing" Executive at his own desk complete with an inbox and mail to pore over!

This place changes lives and is so important in our community! Here's to another 25!!!



Thanks from the bottom of my heart!
Karin Lekas
2019 Event Photo Highlights
Past Take a Chance for Seniors Event Highlights
Click here to view 2019 '25th Anniversary Casino Night
Click here to view 2018 'Denim & Diamonds' Casino Night
Click here to view 2017 'Life is a Story' Casino Night
Click here to view 2016 Masquerade Ball Casino Night
Click here to view 2015 Roaring 20's Take a Chance for Casino Night
Click here to view 2014 20th Anniversary Casino Night
Click here to view 2013 Take a Chance for Seniors
Click here to view 2012 Take a Chance for Seniors
Click here to view 2011 Take a Chance for Seniors
Click here to view 2010 Take a Chance for Seniors