Save the Date for our Virtual Fundraiser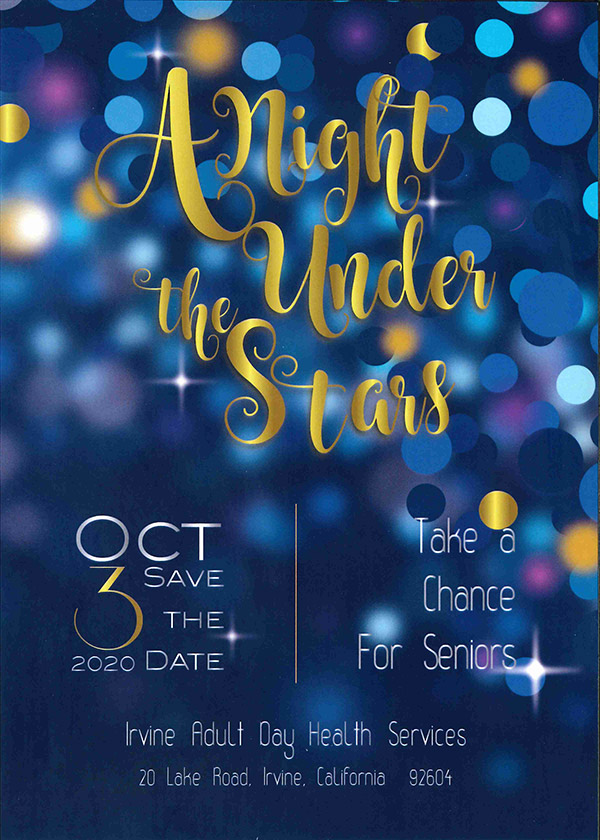 Click here for the Virtual Invitation
Double Your Impact

The City of Irvine is Matching Sponsorships
up to $20,000 again this year
Click here to become a sponsor or donate online today
Click here for sponsorship opportunities and form
A Night Under the Stars Sponsors 2020 ~ view listing
Staying connected is so important during these uncertain times. The COVID-19 pandemic forced us all to re-image how we live and work as we try to keep our families safe.

In response to COVID-19, our Team at Irvine Adult Day Health Services quickly pivoted our traditional center-based congregate programming to Temporary Alternative Services (TAS) in March in accordance with State Licensing and CDC guidance as a protective measure to help slow the spread of COVID-19.

No one thought we would be apart from our participants for five months now.
Temporary Alternative Services (T A S) Includes:

Telehealth / Virtual Wellness Contacts
Health Assessments & Review of Medications, Blood Pressures & Blood Glucose
Education, Counseling, & Risk Assessment for COVID-19
Caregiver Support, Case Management, Community Resources
Care Plan Assessment & Development
Social Engagement Connections
At-Home Monthly Activity Calendars & Interactive Packet Deliveries

Coming Soon:
Virtual Caregiver Support Groups
Interactive Participant Zoom Groups Reflective of Center-based Groups
provided by our team of Healthcare Professionals including: Registered Nurse,
Social Workers, Activity Coordinator, Physical Therapist, Occupational Therapist, Speech Language Pathologist; and outside Musical Entertainers


We are all eager to return to program when it is safe and when we are permitted to do so by State licensing. As our telehealth TAS services appear to be the "new norm" for the foreseeable future, we need your support to help us expand these vital telehealth / virtual services and thoughtfully prepare for the future by pursuing every path to ensure a safe return to traditional center-based programming.
To encourage your support and double your impact, we proudly share that the City of Irvine is once again offering a $20,000 Matching Sponsorship Opportunity.
Your contribution supports our program where the greatest needs are identified, such as:
$5,000 could Provide 80 Interactive Zoom or Center-based Groups
$3,250 could Help 16 Participants Engage in Program 1 time per week
$2,500 could Support 16 Musical Entertainment Zoom or Center-based Groups
$1,750 could Support PPE, Disinfectant, & Medical Supplies for Re-Opening
$950 could Help us Stay Connected via Language Translation Line for 1 Month
$550 could Support At-home Monthly Activity & Interactive Packet Deliveries
$300 could Support Home Delivered Art Supplies for 10 Participants
We invite you to join us in support of the work we do at Irvine Adult Day Health Services and look forward to seeing you at our virtual Take a Chance for Seniors event. We know that some of you may be able to contribute larger Sponsorship gifts, and others may only be able to afford a gift of $25, $50, or $100. No gift is too small.
Together we can help our families stay together and connected. Click here to contribute today.
Follow Irvine Adult Day Health Services on our YouTube channel, Facebook, and Instagram.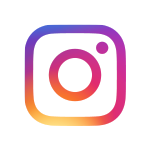 To learn more about how you can become involved, contact Kimberly Beeson, Executive Director at 949.262.1123 or kbeeson@irvineadhs.org.
2019 Event Photo Highlights
Past Take a Chance for Seniors Event Highlights
Click here to view 2019 '25th Anniversary Casino Night
Click here to view 2018 'Denim & Diamonds' Casino Night
Click here to view 2017 'Life is a Story' Casino Night
Click here to view 2016 Masquerade Ball Casino Night
Click here to view 2015 Roaring 20's Take a Chance for Casino Night
Click here to view 2014 20th Anniversary Casino Night
Click here to view 2013 Take a Chance for Seniors
Click here to view 2012 Take a Chance for Seniors
Click here to view 2011 Take a Chance for Seniors
Click here to view 2010 Take a Chance for Seniors