Testimonials
Nicole Hansen
Janet Johnson
Cecilia Leung
Stan Bailey
Tom Carr
Janelle Odishoo
Andy Lee

Our association of a day at Disneyland is usually one of fun and joy. It is not having a stroke where you can no longer walk, speak, or move your right arm or leg. It is certainly not expected that you will end up in a nursing home for two years fighting to regain some normalcy in your life. For Dick, this is exactly what happened. Thanks to his wife,
Beverly, Dick was brought home from the nursing home and was introduced to a new extended family at the Irvine Adult Day Health Services. Physical, occupational, and speech therapy are only one aspect on the road to his recovery.
Dick has a determined and hardworking personality that daily pushes himself to his limits. He has been with us for a year and half and steadily is improving in every aspect of therapy. He still requires assistance to walk, but has a realistic long term goal of walking independently with a hemi-walker within his home. He will not use his right arm again, but works to have his left arm take over that functional use. His right leg gets steadily stronger, even though he will always need an ankle brace.
The best part is his speech. He is finding the words that were so frustratingly eluding him. Once again, he is carrying on conversations that spotlight his charming, witty, and bright personality. When asked what advice he would give someone thinking of coming to our Center, his response was "Just get up and do it!" "You can't get better if you don't try!"
By Nicole Hansen, Physical Therapist - Irvine Adult Day Health Services, 2014
It has been nearly eight years since I moved to Orange County to live with and care for my mother, Maggi. During the first few years, when her dementia was mild and she was physically doing well, she was active, able to take classes and visit with friends. I could leave her alone for a couple of hours. We both kept busy and had fun together, but as her friends passed away or moved and her cognitive abilities declined, we were able to spend more time at home, just the two of us. I struggled to keep her engaged physically and especially mentally. When I finally realized that she needed more activities than I could provide and she needed to be socially involved with people other than her family, I started looking for a day care center for her to attend. We first visited a center close to home but were not sold on it. We next toured Irvine Adult Day Health Services where we were both immediately impressed with the staff and the atmosphere of the facility. There was no question that this was the right place for her, and we were right.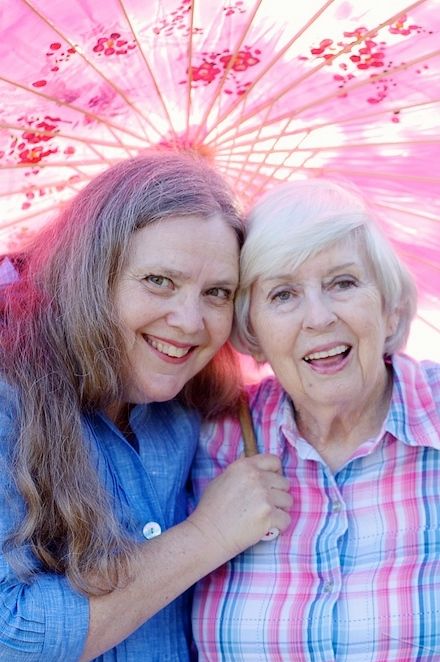 Mom attends IADHS two days a week. She has enjoyed many of the activities—exercise, crafts, painting, singing, and batting balloons to other participants. She enjoys the breakfasts and lunches there. When I tell her in the morning that she is going to day care, she gives me a bright smile. When I pick her up, she always indicates to me that she had a good day. I am certain that her participation at IADHS has enhanced her life.
I wasn't expecting it when she started there, but IADHS has enhanced my life too. Not only do I get time alone at home and do outside activities that I enjoy, but the staff has given me support and practical advice—from suggesting I use rubber shelf lining between the seat and the seat cushion to keep mom from sliding when she is seated in her wheelchair to giving me advice on how to cope with changes in her behavior, the decline in her ability to communicate and complete activities of daily living.
In addition, one of the reasons I looked at IADHS was that they host a bi-monthly Alzheimer Association support group for caregivers. Mom is able to stay late at the center to be looked after while I attend. The group is excellent and has helped me cope with the ups, downs, and surprises associated with caring for a loved one with dementia. I have made new friends there who I know what I'm dealing with, which was hard to find until I attended these meetings.
Caring for my mother has and continues to be a challenging journey. Mom's participation at Irvine Adult Day Health Services has made that journey easier for the both of us.
Janet Johnson, Caregiver 2014
Terry Leung was born and raised in Canton, China. It was because of his family background, being middle class and his parents owned land and properties, he was denied the chance of receiving higher education and was sent to work as farmhands in rural villages along with youths of the same backgrounds during the Chinese Cultural Revolution.
In order to get a better life and education, Terry escaped Hong Kong in his late teens by swimming across the sea from China for several hours risking being drowned or attacked by sharks along the way. He emigrated to the U.S. after working briefly as a factory worker in Hong Kong. He earned his Bachelors and Masters Degrees in engineering in Massachusetts. During that time, he also worked as a waiter in restaurants after school to help pay for his tuition and living expenses.
He found work in California upon graduation and started a family. Now, Terry has two grown daughters. He subsequently worked for Boeing Aircraft in Long Beach as a Structural Engineer for the last 20+ years. He enjoyed and took great pride in his engineering work but was forced to retire early because of the progression of Parkinson's disease and Dystonia.
Our family is very appreciative that we could trust and rely on Irvine Adult Health Day Services to care for him. IADHS provides him with a warm, interactive, vibrant, and stimulating environment. The staff there are wonderful. They are caring, helpful, compassionate, and professional. All these have greatly improved his quality of life. Despite his initial resistance of going to the Center, he now looks forward to go to the Center and is eager to meet with his friends there. He is happier and more alert on the days that he goes to the Center. We are all grateful and happy for the help and support provided by the Center.
Our family feels less stressful now. We can better manage our time to do things we normally couldn't do while caring for him. We have the luxury of meeting with friends to socialize, knowing that he is in good hands. All these would not be possible without the quality care and good programs provided by Irvine Adult Day Health Services.
Cecilia Leung, Caregiver 2014
Finding a place to be ~ Absolute vulnerability. Total dependency. These describe life stages that come around in their purest forms at least once for everyone: when we are babies. For some, this stage is relived much, much later in life through advanced Alzheimer's disease. A baby in her father's arms and my mother at my side: both absolutely dependent, totally vulnerable.
There are huge differences, however, in how families and society react to these two stages. With a baby, there is wonderment, hope, a sense of duty, sacrifice. Care is intense and vigilance is constant. In contrast, the Alzheimer's patient does not always inspire the same feelings from others. Wonderment turns into discomfort; hope into despair; duty and sacrifice, rethought.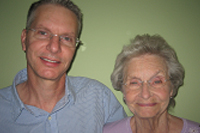 It is just my mother and me. (The rest of our family lives in Texas.) When she asks me who I am, and why she is "here," which is never anywhere she can recognize, I tell her I am her son, "Stan Bailey, in the flesh." I add that we are like "two peas in a pod," "two bugs in a rug." These words soothe her, and she responds on cue, "Take care of me. I don't know where I am."
I will take care of her. However, I am not alone. I have a partner in Irvine Adult Day Health Services. I literally do not know what I would do without them. When my mother is there, I know that her dependency is at least temporarily transferred, and her vulnerability shielded. Moreover, my mother's personhood is nourished, and her body is exercised. When she is in good spirits, which is almost always, she will often say in her singsong way, "I want to dance; I want to prance." She does both at IADHS, and much more. Alzheimer's is tough. I am glad I found a partner.
Hallie found the love and care that she needs at Irvine Adult Day Health Services. Around three years ago, my mom Hallie (a level four Alzheimer's patient) was a victim of caregiving gone wrong. In 2007 she fell down in her own back yard and broke her hip. She spent five hours alone on the ground before my 87 year old dad (her caregiver) decided to look for her and finally found her. When he did find her, my dad recruited the neighbors to help him drag my mom to a recliner chair in their living room. She spent the entire night in agony. No one called 911. The following day I found out about her situation and worked with her doctor to dispatch an ambulance to transport her to a hospital where she received successful hip replacement surgery. It only took my mom a remarkable three months to recover from her hip replacement. Meanwhile, my dad's health went downhill. My mom spent days hovering over him in various hospitals. In 2008 my dad died. As a result, I had to move my mom out of her house and into my own home. In a short period of time, she lost her husband, her home, and her smile.
After my dad's death, the subject came up of how to care for my mom. Some in our family wanted to place her in a memory unit environment and others considered the possibility of hiring home care companions.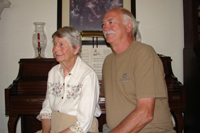 My mom's doctor recommended that we take a look at the Irvine Adult Day Health Services program. I'm happy to say that we did take a look at the IADHS program and we liked what we saw. The staff is warm, caring, loving, and friendly. Their daily activities stimulate many of my mom's interests such as gardening, painting, and socializing. She loves the group discussions at IADHS, as well as the quality of the people in the groups. She always remarks at how well everyone gets along with one another. My mom is highly social and she has found a new home at IADHS. 
Now we're able to keep mom home at night and turn her over for care to the staff at IADHS during the day. She smiles and laughs a lot now.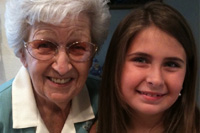 Being an only child, I knew that at some point my mother, Beverly, would live with my family and me.  I would care for her needs as she aged and keep her at home with us as long as possible.  I graduated from USC with a degree in Gerontology and was a nursing home administrator for several years before my husband and I became entrepreneurs and started a family.  When Beverly started falling and lived alone, I knew it was time for her to come live with us.  I was destined to be in the sandwich generating, caring for a young child and an aging parent.
I was sure that Beverly's lungs would fail her at some point having smoked since she was thirteen.  However, after 11 years living with us, she was as healthy as can be but started showing signs of memory loss.  She was getting lost driving and experiencing intermittent confusion.  Even with my extensive health care knowledge, I simply didn't take the advice that I'd given to so many others.  I allowed my mother to watch TV all day in her nightgown, manage her own medications, and didn't push her to get out and be active.  I wasn't ready to reverse our roles and be the parent of my parent.  It was a battle between her and I that she won.
As a result, Beverly became increasingly more combative and depressed.  This woman who was a strong, independent, and mentally tough real estate broker was now reclusive, depressed, and struggling every day to maintain her independence as her body and mind declined from lack of exercise.
After strategizing with her doctor and Jill at IADHS, changing her medications, and mustering up the energy to start the program, my mother began attending the "HEALTH CENTER".  I was so scared the first day…I cried and cried the same way I did when my daughter went to her first day of school.  I was sure she would hate the food, not relate to the people, and be as combative with the staff as she was with me. 
I can honestly say that it was the BEST decision we made!  My mother absolutely loves the caregivers and the physical therapy she receives 3 days a week.  She enjoys the social interaction and participates in the exercise program.  They are waking up muscles that she hasn't used in years…and she is sore! 
As the saying goes…the proof is in the pudding!  She is sleeping better, is more positive, and has more energy than ever.  She even got dressed and was out to church with the family on Easter Sunday (her first trip to church in several years!).  Her quality of life is better than ever all because of the staff at the Irvine Adult Day Health Services! 
I know there is a long road ahead with this progressive disease, but now I have a partner to help me keep my mother at home with the family as long as possible.   I have sanity again and can balance work and family life!  I feel truly blessed to have found this program and would highly recommend it to all families with an aging parent experiencing memory loss.
My mother, Audrey Fuller, having moved here from Florida after the death of her husband, has been living with me, her daughter, for two years. During this time, I have had the privilege of being the lucky listener of the multitudinous stories of her past, more specifically WAY in the past! One of my favorites is her having gone to NYC to stay with her father during her young Richmond Indiana junior high days. She was allowed to go to see a movie by herself while he was at work. In those days there was "live entertainment" between the movie showings. Well, she doesn't recall the movie she saw but she does know she saw it three times because Ella Fitzgerald sang between each showing! To honor that special memory I took her to the Laguna Playhouse to see the play about Ella, her life and, obviously, her wonderful songs. Mom knew the words to all of them and did her best to only "mouth" them rather than to sing along!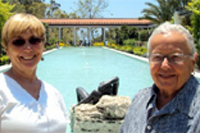 When Mom's short term memory began to change in major ways, I knew it was time to get some help...both for her AND for me. After attending the Alzheimer's Association's "Savvy Caregiver" classes, I made an appointment with the folks at IADHS and after completing the application processes, Mom, with many reservations, agreed to go.
To make the process fun and light, we decided to call her destination for three days a week, "Club Irvine!" She now enjoys her social, learning, eating, caring experiences there even though she doesn't remember much of what she had for lunch or what she might have done. But...she remembers a lot of long term challenges while she's there and that keeps her engaged and "ON!" The staff is great and very affirming of Mom's involvement and her "playing nice with others," a phrase I say to her every time I drop her off for her day...makes her laugh! As for me, I attend the Caregivers Support Group which meets the second and fourth Wednesdays of each month at IADHS and find that experience invaluable in my own journey of learning how to be a patient and knowledgeable caregiver given the Mother/daughter role reversals Mom and I have had to learn in the process of Alzheimer's challenges.
My daughter and her family also are so very grateful for having Granny/Great Granny be in their Irvine life and times and are learning a lot about how to be "present" and helpful with Mom...great intergenerational experiences. My two brothers live on the East Coast and appreciate Club Irvine's contribution to the community...and to me as they can't be here very often.
So we all say...thanks Irvine Adult Day Health Services for helping us during these challenging times of caring for Mom in supportive, caring and safe experiences.