Irvine Adult Day Health Services (IADHS) is a vital community resource for families caring for an older or disabled loved one. We are proud of our history and ability to innovate in offering daytime social engagement opportunities, personalized health monitoring and supportive services to individuals experiencing memory loss, mobility challenges, and other chronic health conditions.
The pandemic forced us all to reimagine how we live, work, and stay connected. Whether in-person or via telehealth/virtual services, we will continue to follow our mission and assist low income, underinsured, and at-risk older and disabled adults and caregivers in accessing skilled nursing care, health monitoring, and social services programs.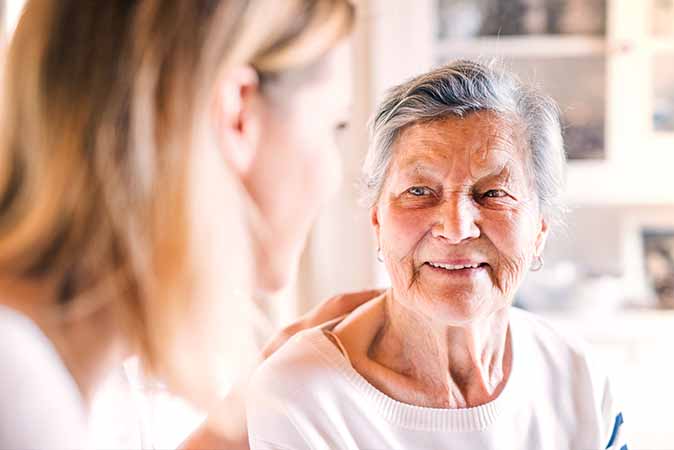 IADHS was founded in 1994 as a non-profit charitable organization in collaboration between the City of Irvine, then Irvine Medical Center, Irvine Health Foundation, Kaiser Permanente, The Irvine Company, and a visionary group of dedicated volunteer community leaders.
IADHS is housed in a 5,600 square foot wing of the Lakeview Senior Center. Establishing a joint use facility for the adult day services program and the active senior center was a visionary concept.
This is the only shared use facility in Orange County that offers a continuum of care service options that meet seniors' social, medical, and psychological needs.
Our Center is licensed to serve 60 participants per day. We support families who reside in Irvine and the broader Orange County area.
Care Options and Return to Center Planning During the Public Health Emergency
Staying connected has been so important during these uncertain times. Now more than ever, our participants and caregivers need a trusted and safe way of staying connected with their community to combat the devastation of social isolation and fears associated with the pandemic.
The health and safety of our participants, caregivers, and staff is our number one priority as we slowly transition our Center without Walls Telehealth/Virtual Program into Hybrid Services, and back to a fully restored Traditional Congregate Services day of care.
Though we have begun to offer limited in-person appointments at the Center, we recognize that timelines for the progression of services may alter based on Center and participant readiness and future CDC, State Licensing, County, and local guidelines.