Temporary Alternative Services
Irvine Adult Day Health Services community of Participants, Caregivers, and Staff are staying connected in meaningful ways through our Center without Walls Temporary Telehealth / Virtual Programming.
Our welcoming and experienced team of healthcare professionals are committed to offering personalized health monitoring, social engagement opportunities, therapy services and support to help your loved one stay safe, active, and engaged. Through virtual, Facetime, Zoom, and weekly calls we develop person centered programs that will support your loved one's unique interests, care needs, and quality of life goals.
We understand your needs as a caregiver and strive to support you through your caregiving journey by connecting you with vital community resources and giving you the balance and support you need.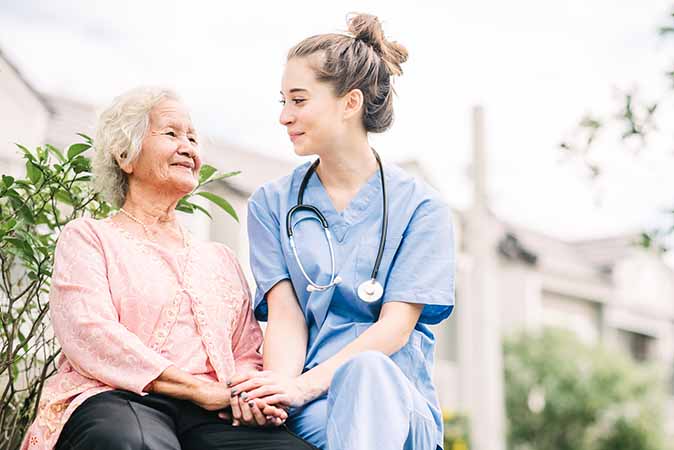 Our team is actively preparing for a return to in-person programming in a slow and safe approach, beginning with shorter scheduled days at the Center and growing over time to back to traditional congregate days of nursing care, therapeutic services, activities, and in-person support in the months to come.
To learn more about our programs and enrollment opportunities, or to schedule a tour, please contact our Social Workers at the Center at 949.262.1123 or directly via email and remote phone lines:
Jill Upton, Lead Social Worker
949.591.6316 | jupton@irvineadhs.org
Michaelann Cassady, Social Worker
949.591.6318 | mcassady@irvineadhs.org.
Services
Weekly Wellness Contacts
Health Assessments, Review of Medications, Blood Pressures &
Glucose Monitoring
Education, Counseling, & Risk Assessment for COVID-19
Caregiver Support, Case Management, & Community Resources
Physical, Occupational, & Speech Therapies
Person-centered Care Plan Development
Social Engagement Connections
At-Home Weekly Activity Calendars & Interactive At-Home Activity Packet Deliveries
"We look forward to the unique packets with a little bit of history and trivial pursuit information was fun to read about. We should never stop learning. Resources and referrals and talking to my mother on the phone is especially nice. Thank you so much!"
Interactive Participant Zoom Groups
Our favored exercise classes, bingo, brain-fitness, reminiscence, and cultural groups that are traditionally enjoyed at the Center have transformed into socially interactive groups via Zoom*. Being able to see each other's smiling faces offers social interaction opportunities that our Participants and Staff are craving!
*The Center uses the HIPPA Compliant Zoom platform to assure privacy for our participants and caregivers.
Traditional In-person Adult Day Health Care/Community Based Adult Services Programs
All Temporary Alternative Services provided on site, plus
Daily nutritious breakfast, lunch, and snack
Accessible door-to-door Transportation